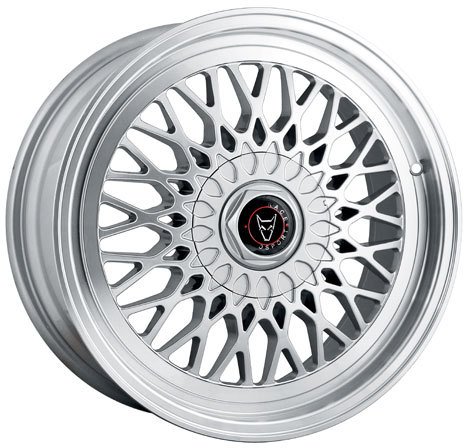 Wolfrace Eurosport - Classic (Hyper Silver / Polished Lip)
NEW WOLFRACE EUROSPORT CLASSIC 8.5x18".
Wolfrace, the UK's best-known alloy wheel brand, reinvent a timeless design - the new 'Classic' alloy wheel.

The new Classic takes the form of the familiar retro 'cross thatch' or 'mesh' design made popular in the early days of motorsport and features a polished rim and large two piece centre cap.
A small cap version is also available exposing the centre fixing holes.

The range of colours available includes Gloss black, Gloss titanium, Hyper silver or Bronze - all with polished lip.

The 'Y-shape' design is a popular choice for owners of all vehicle types and Wolfrace has this covered by a comprehensive fitment list, the new Classic is available in four and five stud fitments to suit both cars and vans.

The Classic can be drilled to order by Wolfrace engineers in the required four or five stud fitment to any PCD in the range of 98-120mm.
The offset range is from 20 to 45.

So if you drive a VW, BMW, Audi or Ford - amongst others - the Classic is available for your vehicle.

The suggested retail price for Classic is:
8.5x18" £134.95

WEIGHT LOADED Like many Wolfrace wheels, Classic has a superior weight load to most aftermarket wheels meaning they are suitable for vans and commercial vehicles as well as passenger cars.

Classic is complete with a twelve-month warranty which can be extended to two years when a purchase is registered on www.wolfrace.com.