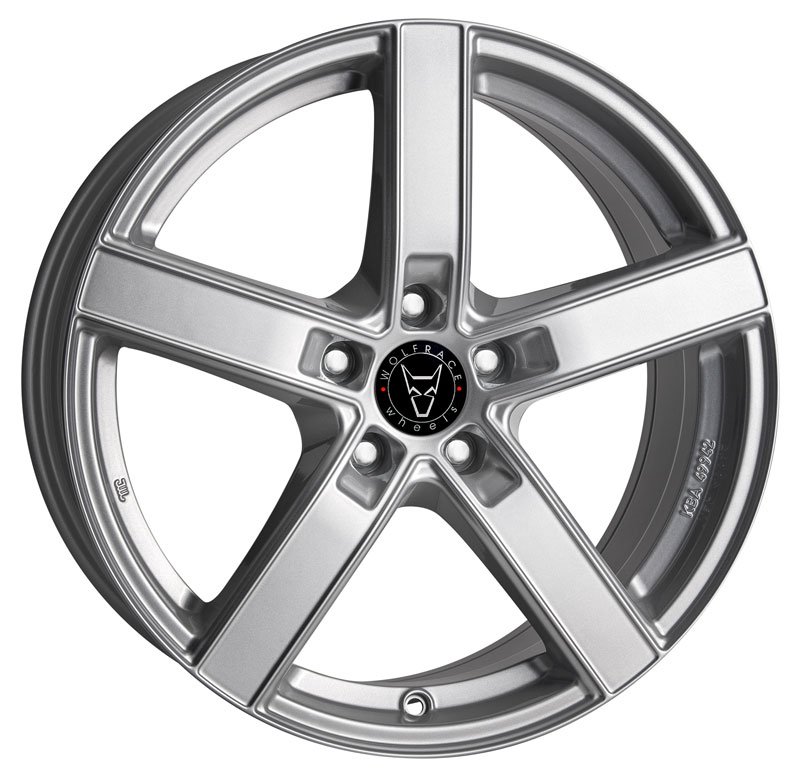 Wolfrace GB - Emotion (Polar Silver)
The new, high quality Emotion alloy wheel from Wolfrace GB.

This simple, lightweight five spoke design is complete with a five year warranty and has TUV certification.

Various sizes and five stud fitments are available.

Look out for the Gloss black/ polished and Gloss black versions.

Wheel Weights

7.0x16" 5x100 8.84kg
7.0x16" 5x105 9.12kg
7.0x16" 5x108 et48 8.74kg
7.0x16" 5x108 et50 8.96kg
7.0x16" 5x110 et50 9.07kg
7.0x16" 5x112 et38 9.03kg
7.0x16" 5x112 et39 8.96kg
7.0x16" 5x112 et48 c/b 70.1 8.78kg
7.0x16" 5x112 et48 c/b 57.1 8.96kg
7.0x16" 5x114 et38 9.03kg
7.0x16" 5x114 et48 8.73kg
7.0x16" 5x115 8.96kg
7.0x16" 5x120 8.96kg
7.5x17" 5X100 10.05kg
7.5x17" 5X105 10.33kg
7.5x17" 5x108 et47 9.91kg
7.5x17" 5x108 et55 10.20kg
7.5x17" 5x110 10.29kg
7.5x17" 5x112 et35 10.22kg
7.5x17" 5x112 et47 9.22kg
7.5x17" 5x112 et37/45 10.20kg
7.5x17" 5x114 et35 10.25kg
7.5x17" 5x114 et47 9.89kg
7.5x17" 5x115 et37 10.18kg
7.5x17" 5x120 10.20kg
8.0x18" 5x108 11.22kg
8.0x18" 5x112 et35 11.51kg
8.0x18" 5x112 et45 11.25kg
8.0x18" 5x112 et39 11.80kg
8.0x18" 5x114 et35 11.52kg
8.0x18" 5x114 et45 11.23kg
8.0x18" 5x115 et45 11.19kg
8.0x18" 5x120 et35 11.43kg
8.0x18" 5x120 et30/43 10.20kg

Wheel Weightload

7.0x16" 5x100/105 615kg
7.0x16" 5x108 et48 725kg
7.0x16" 5x108 et50 680kg
7.0x16" 5x110 730kg
7.0x16" 5x112 et38 730kg
7.0x16" 5x112 et48 c/b 70.1 725kg
7.0x16" 5x112 et39 680kg
7.0x16" 5x112 et48 c/b 57.1 705kg
7.0x16" 5x114 et38 730kg
7.0x16" 5x114 et48 725kg
7.0x16" 5x115 730kg
7.0x16" 5x120 680kg
7.5x17" 5x100/105 615kg
7.5x17" 5x108 et47 790kg
7.5x17" 5x108 et55 680kg
7.5x17" 5x110 790kg
7.5x17" 5x112 et35/47 790kg
7.5x17" 5x112 et37/45 735kg
7.5x17" 5x114/115 790kg
7.5x17" 5x112 et35/47 790kg
7.5x17" 5x120 et35 740kg
7.5x17" 5x120 et32/37/43 745kg
8.0x18" 5x108 790kg
8.0x18" 5x112 et35/45 790kg
8.0x18" 5x112 et39 730kg
8.0x18" 5x114 790kg
8.0x18" 5x115 675kg
8.0x18" 5x120 et35 790kg
8.0x18" 5x120 et30 825kg
8.0x18" 5x120 et43 745kg