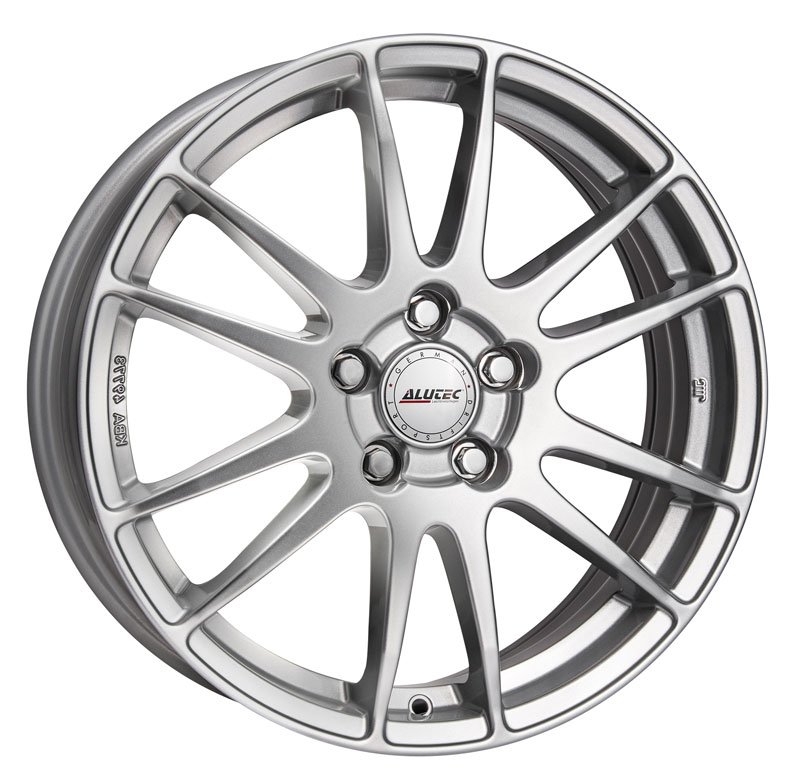 Alutec - Monstr
Polar Silver
The Alutec Monstr is a 'split' six spoke design available in either Polar silver or Racing black.

The Monster wheel is the wheel of choice for Alutec's own drift team - competing in the European Drift Championship this year.

Monster is available to suit a wide range of four and five stud vehicles - its also TPMS compatible.

Like all Alutec wheels, the new Monster is made in Europe and is TUV approved - the standard warranty is twelve months but this can be extended to five years (registration required).

Wheel Weights:

6.5x17" 4x98 8.47kg
6.5x17" 4x100 8.44kg
6.5x17" 4x108 et20 8.92kg
6.5x17" 4x108 et40 8.465kg
6.5x17" 5x100 8.84kg
6.5x17" 5x108 8.74kg
6.5x17" 5x112 et33 8.95kg
6.5x17" 5x112 et45 c/b 66.5 8.41kg
6.5x17" 5x112 et45 c/b 57.1 8.45kg
6.5x17" 5x112 et50 8.41kg
6.5x17" 5x114.3 et33 8.93kg
6.5x17" 5x114.3 et45 8.71kg
7.5x18" 4x100 9.975kg
7.5x18" 4x108 10.31kg
7.5x18" 5x100 10.025kg
7.5x18" 5x108 9.85kg
7.5x18" 5x112 9.84kg
7.5x18" 5x114.3 9.88kg
8.5x18" 5x112 et30 11.06kg
8.5x18" 5x112 et40 10.78kg
8.5x18" 5x120 10.96kg
8.5x18" 5x114.3 10.76kg
8.5x19" 5x112 et30 12.02lg
8.5x19" 5x112 et40 11.84kg
8.5x19" 5x120 11.90kg
8.5x19" 5x114.3 11.86kg

Wheel Weightloading:

6.5x17" 4x98 638kg
6.5x17" 4x100 638kg
6.5x17" 4x108 et20 655kg
6.5x17" 4x108 et40 638kg
6.5x17" 5x100 610kg
6.5x17" 5x108 710kg
6.5x17" 5x112 et33 730kg
6.5x17" 5x112 et45 710kg
6.5x17" 5x112 et50 490kg
6.5x17" 5x112 et33 735kg
6.5x17" 5x112 et45 710kg
7.5x18" 4x100 640kg
7.5x18" 4x108 670kg
7.5x18" 5x100 610kg
7.5x18" 5x108 735kg
7.5x18" 5x112 735kg
7.5x18" 5x114.3 735kg
8.5x18" 790kg
8.5x19" 790kg
| | |
| --- | --- |
| Sizes | 6.5 x 16, 6.5 x 17, 7.5 x 18, 8.5 x 18, 8.5 x 19 |
| PCDs | 4x100, 4x108, 5x100, 5x108, 5x112, 5x114.3 |
| Load Ratings | 610, 615, 635, 638, 640, 655, 670, 710, 720, 730, 735, 740, 790 |