Whether you've got a Ford, Nissan, Mitsubishi, Toyota or VW, you chose your 4×4 or pick-up truck because it's a stylish, tough workhorse that'll go anywhere and do anything – even before you begin to make it yours – that's why you bought it, right?
Straight from the manufacturer, or pre-owned, you're likely to have a factory spec body and wheels; fantastic – they do the job but they're not very exciting and more importantly they're probably not very 'you'.
Wolfrace Wheels have seen an incredible increase in demand for personalisation of commercial vehicles over the last 18 months or more. The possibilities for vehicle customisation are limitless – windows, wraps – you name it, it can be done.
Pick-up trucks and 4x4s are certainly not excluded from the realms of a full personalised make over. Tinted windows and custom paint jobs aside, there are some things that you will want to change straight off the bat.
Let's start with the wheels…
Wolfrace Explorer wheels are a popular choice for both 4x4s and pick-up trucks. Their individual and rugged looks add a personal statement to your vehicle from the outset.
The whole Explorer alloy wheel range is manufactured to enable complete fitment coverage which means we can drill each wheel to custom fitments, in most cases we can adjust PCD (stud pattern) offset and centre bore. This means that if your vehicle can accept the wheel size, we can offer a wheel to suit – all you need to do is to choose your wheels…
Gloss Black / Polished 9x20"
Matt Black in 9x17", 9x18" and 9x20"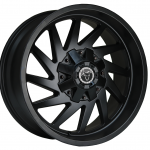 Gloss Black / Polished Windows / Milled Rim Holes 9x20"
Gloss Black / Polished 9x20" 
Gunmetal / Polished  9x20"
Now on to the body…
Our Safari Range allows you to fully customise your pick-up truck from fender flares, bonnet scoops and body cladding to rugged alloy wheel choices that will really make your vehicle stand out from the crowd.
Body kits are available as individual components or complete kits – the choice is yours!
We will supply and fit all body kits, accessories and wheels at our premises in Maldon – just give our team a call on 0845 330 9896 or email sales@wolfrace.co.uk to get a quote.
Our Explorer wheels and Safari accessories range is available for the following vehicles:
Mercedes X-Class
Nissan Navara NP300
Mitsubishi L200
Toyota Hi-Lux
Volkswagon Amarok
Isuzu D-Max
Ford Ranger
Fiat Fullback
Dacia Duster / Sandero
Our range is expanding week by week. View the full and current accessories brochure here.