Achieving the perfect fitment for your vehicle is taking into consideration everything that makes a wheel a wheel, and ensuring that what you visually want to see on your motor lines up with what the vehicle will actually allow. Finding that perfect fitment is the difference between having a mediocre set-up and having an amazing set-up.
At Wolfrace Wheels, we want to help you achieve that sweet spot of the flawless fitment for your car, because we truly believe that if you obtain that correct set-up, you'll simply fall in love with your car all over again.
Using our online fitment guide
When you shop at Wolfrace Wheels we guide you through the process to finding your new alloy wheels with our online fitment guide – including over 4,500 vehicles, it's super accurate and super-fast!
You can search by car, simply type in the car model, this then displays options and sizes. There's also the option to add tyres by clicking on the tyre symbol, this will give you a range of suitable tyres that you can order.
Alternatively, you could also use the following searches 5×120, 120×5, 1205 or 5120, this would display all sizes available, or search by PCD (pitch circle diameter) and size, 5120 18, or if you wanted to choose between 8×18 and 8.5×18, e.g. 8018, 8518, etc.
To learn more about the process that is included in our online fitment guide, we've explained what each component means to your wheel and you.
Beginning with bolt pattern
If you're looking to understand about fitments, you'll likely start with understanding which bolt pattern you currently have. Bolt pattern, or sometimes referred to as bolt circle, is simply the diameter of an imaginary circle formed by the centres of the wheel lugs.
Bolt patterns can be 4, 5, 6-or 8-lug holes. For example, a bolt circle of 4×100 would comprise of a 4-lug pattern on a circle with a diameter of 100mm.
You'll also want to understand the relationship between this and your hub bore. This refers to the large middle hole machined in the wheel to properly seat the wheels on the vehicle hub. It's important that the hub bore of the wheel matches the vehicle hub size. At Wolfrace Wheels, our Wolfrace Eurosport range can be custom drilled allowing a multitude of fitments.
Size matters

Wheel dimensions are measured in diameter (15, 16, 17-inches, etc.) and width (6, 7, 8-inches, etc.) Replacement wheels that are the same size as stock (what came with the vehicle) should be able to be fitted to your vehicle without any problems. However, you may want to change the overall look of your motor and diameter is really the biggest component that will affect the aesthetic of your brand-new alloy wheels.
To ensure that a bigger, more aggressive looking wheel will still fit your car, you'll want to do something called 'sizing up'. This means that you can fit larger diameter and wider wheels, but you may run into clearance issues. So, if you are fitting larger diameter wheels, you will have to install lower profile tyres to keep the outer dimensions of the wheel and tyre package the same. Likewise, if you use a wider wheel, you may have to install wider tyres.
You will need to keep in mind your overall wheel width to ensure you're choosing correctly for your vehicle.
Choosing your wheel offset
We've gone through how your alloy wheels will visually appeal to onlookers, but what about the actual performance? Offset will be one of the biggest differences when it comes to how a wheel is going to perform on your car.
Offset refers to how your vehicle's wheels and tyres are mounted and sit in the wheel wells:
Positive wheel offsetis when the hub mounting surface is in front of the centerline of the wheel. You'll find most wheels on front-wheel drive cars and newer rear-drive vehicles have positive offset.
Negative offsetis when the hub mounting surface is behind the wheel centerline. 'Deep dish' wheels are typically a negative offset.
Zero wheel offsetis when the hub mounting surface is in line with the centerline of the wheel.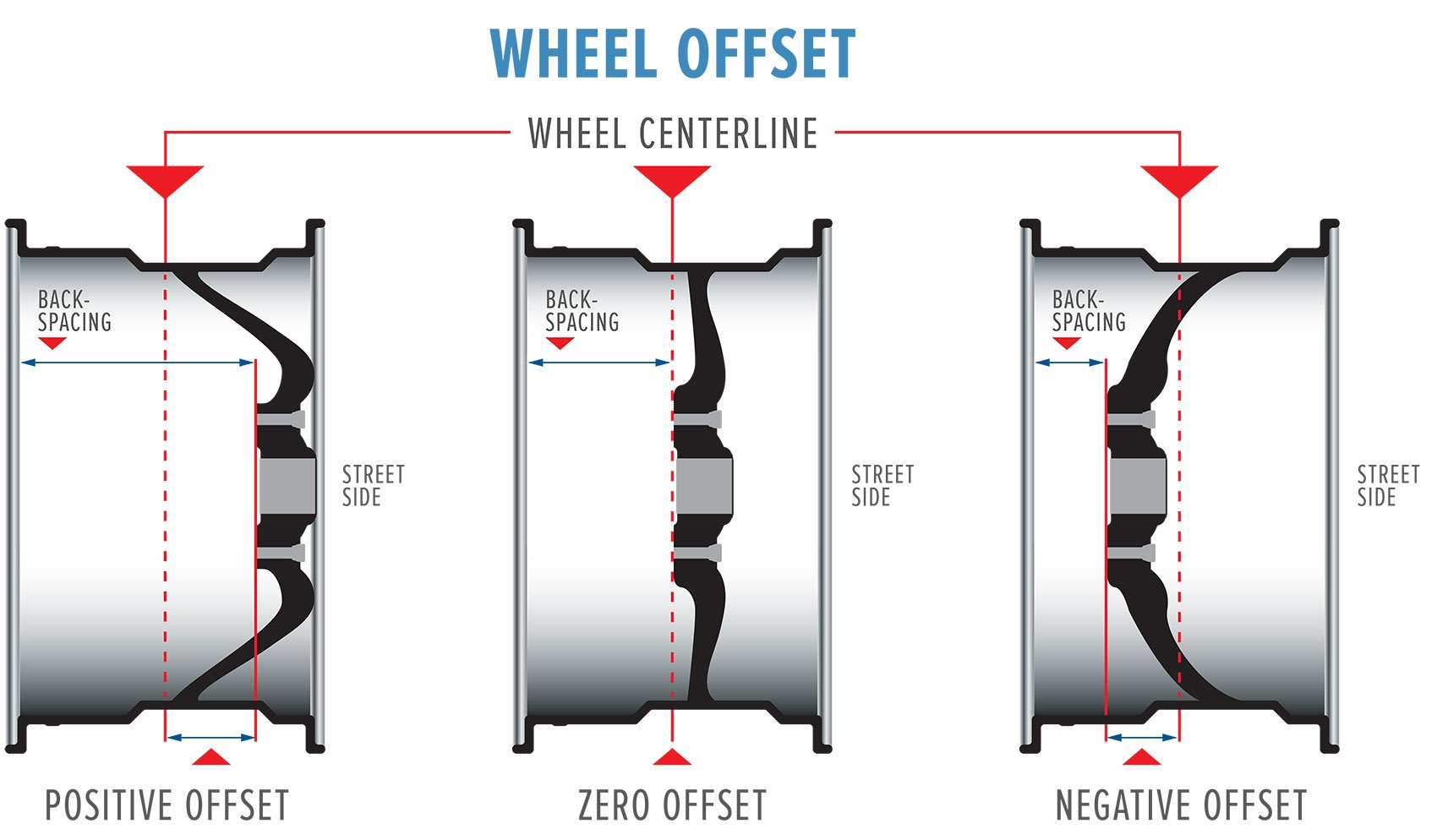 Backspacing is the distance your wheels and tyres need to accommodate both offset and wheel width. This is an incredibly important factor when you're considering an alloy wheel and tyres that are wider than what came on your vehicle.
However, getting the offset and backspacing measurements just right means that you'll get a wheel and tyre package that offers the looks, handling and performance that you're after.
Why aftermarket wheels?
When done correctly, there are numerous benefits of aftermarket alloy wheels and can truly do wonders for your vehicle.
Improve appearance
Steel wheels can never look as sleek and sophisticated as alloy wheels, especially those from Wolfrace Wheels! The right set of wheels can transform the look of any car.
Better heat conduction/dissipation
Alloy wheels are actually able to dissipate heat better than their steel counterparts, which means that they provide much better braking performance and decrease the risk of brake failure.
A better performance
Alloy wheels decrease the up sprung weight and therefore transmit less inertia to the springs. This allows for not only a better grip, but also improved handling, steering and cornering.

Improved fuel economy
Due to the up sprung weight and that alloy wheels are lighter; fuel efficiency is actually increased to a certain extent.

If you're looking for alloy wheels for a bigger vehicle, we also offer a full range of 4×4, SUV, pick-up and custom passenger wheels with lower offsets for use with wide arch kits for pick-up trucks, 4×4 applications and staggered wheel options for prestige vehicles.
All Wolfrace Explorer wheel are available to fit to all 4×4, SUV and pick-up vehicles with or without an arch kit and every wheel is custom drilled and machined to fit your exacting vehicle specifications.
As well as being able to offer our expert knowledge of alloy wheel fitments to our customers, we also offer a standard 12-month warranty that can be extended when a purchase is registered online.
If you'd like to find out more about wheel fitments talk to the Wolfrace Wheels customer services team on 01621 843770, or find your new alloy wheels with our accurate online fitment guide.