Aftermarket alloy wheels aren't exactly a recent phenomenon, and this means that the process of coming up with designs that are genuinely new and innovative can pose something of a problem. Fortunately Wolfrace has been doing this since 1971, a span of time that's seen the UK's most beloved alloy seller re-invent the wheel several times over, and one of the most prominent examples of our ability to do this can be seen in the Evoke and Evoke X.
The Evoke's impressively genre-defying design only becomes truly apparent when viewed in profile, when it's clear that we've managed to pen an alloy that is both convex and concave – all at the same time! This has been achieved through seven sets of polished spokes which protrude from the rim edge before plunging aggressively bounce house for sale back into the centre of all wheel, thus creating an inner concave profile. It's a look which most would deem impossible to pull off, yet the Evoke is rolling proof that it can be done, it just takes a little out of the box thinking.
Not only does the Evoke look the part, it's been developed to be a versatile design, meaning it can be ordered in a dizzying array of sizes, fixings and finishes, large enough to cater to most larger cars and to most tastes. The Evoke is intended to fill the capacious arches of big, executive cars, four-wheel drives and vans so it follows that its size, a meaty 8.5×20in all round, reflects this. The full list of PCD options is equally aggressive and runs to 5×110, 5×108, 5×108, 5×112, 5×114.3 and 5×120.
An all new wheel which only made its commercial debut at the start of the year, the Evoke can be ordered in its signature finish, a suitably menacing combination of black with polished highlights, with further colour combinations in slated for release in the coming months. The contrasting hues mentioned above serve to highlight the Evoke's size, width and aggressively styled spokes.
Weight loaded at 1250kg, the Wolfrace Evoke is also suitable for fitment to a massive array of different commercial vehicles, including applications like the Vauxhall Vivaro and the staggeringly popular VW T5/6. This reflects the growing trend for modified or otherwise aftermarket styled vans, another sector that Wolfrace is proud to support in a big way.
The Evoke's popularity within the commercial sector inspired Wolfrace to develop a new variant, one designed wholly and totally for two of the most popular vans in the UK, the Mercedes Sprinter and VW Crafter. Weight loaded at 1250kg, the 6×130 Evoke X is suitable for even the hardest working, heaviest loaded Sprinter or Crafter, while its bespoke fitment ensures that it will mate right up to the hubs with ease. The Evoke X can also be ordered in a selection of exclusive finishes, including Wolfrace's new Urban Chrome, Gloss Black, Black/Polished or Gunmetal/Polished.
Quality, strength and style are par for the course when it comes to a Wolfrace product, but so too is value for money. Make no mistake, the Evoke is a truly high-end wheel that's taken years to develop, yet one wheel, a massive 8.5×20in wheel at that, will set you back a mere £164.94.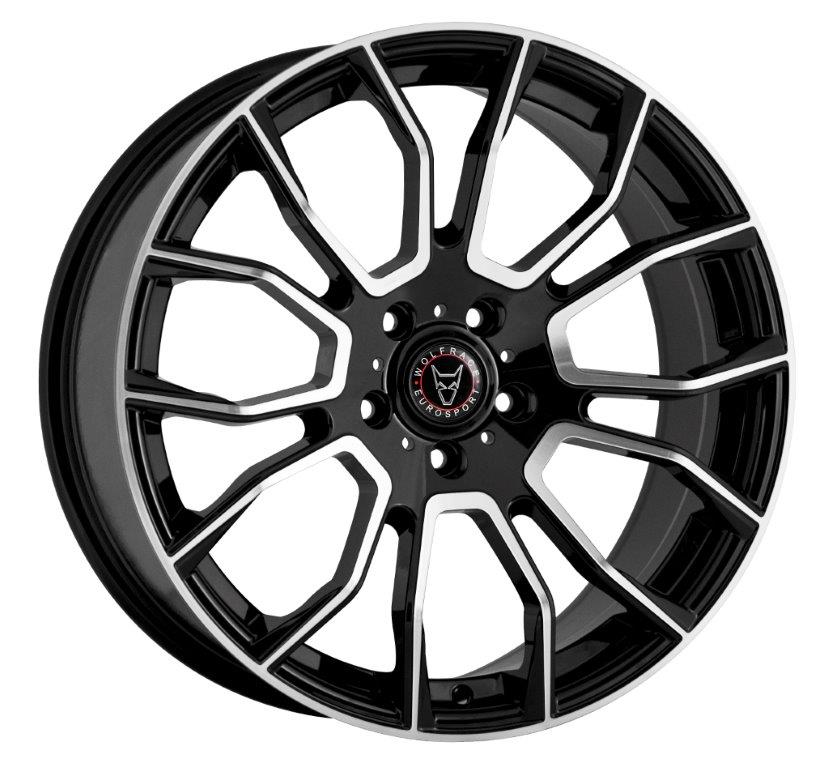 Eurosport Evoke
Size: 8.5x20in
Finish: Gloss Black/Polished
PCD: 5×100, 5×108, 5×112, 5×114.3, 5×120
Eurosport Evoke X
Size: 8.5x20in
Finish: Gloss Black/Polished, Satin Titanium/Polished, Urban Chrome, Gloss Black
PCD: 6×130