We at Wolfrace feel pretty passionately about modified cars of all types, shapes and sizes, from the humblest Citroen Saxo VTR to the most immaculate of BMW M3s, we feel that every car has the potential to look that bit better with its owner's personality tastefully stamped onto it. Of course it goes without saying that our website isn't exactly short of options for regular cars of all types, but what about a type of vehicle that's never been more popular yet, as far as we can see, has hitherto been all but ignored by most mainstream wheel makers – off-roaders and pickup trucks.
It isn't hard to see the appeal of off-roaders and pickups of course; there's the aggressive, rough and tough image that's never been cooler, all backed up by a genuine ability (providing the off-roader in question isn't something like a BMW X3 with selectable all-wheel drive) to cover the kind of ground normally reserved for military manoeuvres! This inspired us to create a number of alloy wheels which can only be fitted (certainly fitted correctly) with aftermarket wheel arches – which we're also able to supply for an array of trucks, including the current Ford Ranger.
The wheels included below are merely a snapshot of the full range of off-road suited wheels, so make sure to click through using the links included at the end of the blog.
The first wheel released as part of our expanded range of Lionhart alloy is the LH1, one based around a timeless five-spoke design. Not only does this mean that it's effectively 'future proofed' and that it will stubbornly refuse to date, it's also extremely strong – ideal for even the most demanding of off-road adventures. It comes in at a sizable 9×20in, perfect for most off-roaders.
The Wolf Design Renaissance has proved to one of the most enduringly popular wheels in the Wolfrace range, and much of this is down to its classic multi-spoke styling, not to mention the raft of different finishes and fitment options available. Put simply, there are very few cars (or indeed trucks) that a well spec'd set of Renaissances one suit.
One of our favourite offerings – so much so that when the time came to fit some new wheels to our own Ford Ranger, we plumped for the Vermont without too much thought. It can be had in a wide selection of different finishes, including Gloss Black with a Polished Face, Matt Black, Gloss Black with a Polished Face and Lip or Gloss Black with a Polished Lip.
The Explorer range opens with the Wildtrek, an attractively styled design with more than a hint of the Wolfrace Aero about it, our turbine style offering from theEurosport range. It also boasts split-rim style rivets in silver running along both the lip and the face of the wheel, and these contrast stunningly with the satin black paint offered on all wheels within the Explorer line. Extreme dish is very much the order of the day when it comes to the likes of the Wildtrek, something made all the more apparent thanks to its aggressive offset. Lastly, the Wildtrek can be had in a selection of 3 different sizes, all on the large side; 9×20, 12×20 and, for those running our wide arch kits, a massive 14×20, large enough to pass as a half decent rental opportunity in central London.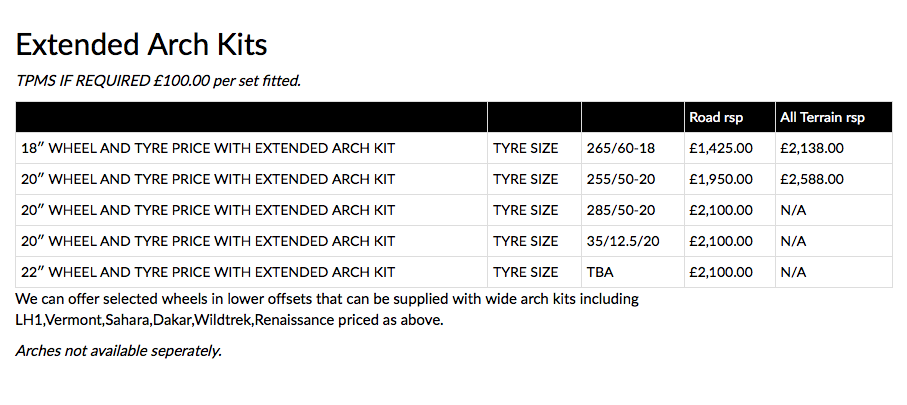 Click through to see more Wolfrace wheels suited for use with extended arches.