Our design-leading range of alloy wheels continues to go from strength to strength and contains several of our best-selling wheels, including our new and improved Assassin range. Wheels in this range feature alloy wheels designed exclusively for Ford Transit and Land Rover.
At Wolfrace Wheels, the Assassin is one of our most popular designs. This versatile design looks great on every motor and are also load rated for commercial vehicles and SUVs.
WHAT'S IN THE ASSASSIN RANGE?
Every hero needs an origin story. Ours is the Wolfrace Eurosport Assassin. The Assassin is available in Gloss Black, or more popularly, Gloss Black / Polished which features polished metallic 'tips' – a finish that is highly popular within all Wolfrace wheel ranges.
If every hero needs an origin story, then every goodhero needs a worthy sequel! With the Wolfrace Eurosport Assassin GT2, we expanded on our popular, original design to create an individual, rugged look that would add a personal statement to your vehicle from the first impression.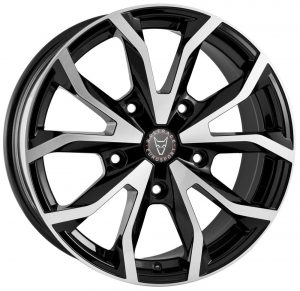 The Wolfrace Eurosport Assassin TRStakes design influence from its predecessors and has been exclusively designed for the latest generation of Ford Transit.
The Assassin TRS has a weight loading of 1,250KG – which is more than sufficient for the Transit.
in demand for personalisation of commercial vehicles. The possibilities for vehicle customisation are limitless, but alloy wheels are a perfect place to start. TheWolfrace Eurosport Assassin FTRis specifically designed for Ford Transit and Land Rover and finished in Gloss Black / Polished with a weight loading of 1,350KG.
WANT TO WIN YOURS? ENTER OUR FACEBOOK COMPETITION.
Wolfrace Wheels are giving you the opportunity to win a set of Assassins of your choosing from our Wolfrace Eurosport range. One lucky winner will receive 4 brand new alloy wheels for their motor, whilst 3 runners-up will bag themselves a Wolfrace mug and thermos!
To enter our free competition, simply follow our Facebook Page and share this poston your Facebook. That's it! We'll announce our lucky winners on Tuesday, 2ndApril 2019.