It's no secret that British car buyers have a soft spot for SUVs and 4x4s. These fantastic all-round vehicles have become more popular than ever before, winning customers from traditional saloons, estates and MPVs.
They offer great space and practicality, whilst also commanding a great view of the road ahead and they look good parked outside your house! Whether you've opted for a 4×4 for work or to transport a growing family – we've got the accessories and alloy wheels to transform your 4×4, SUV or pickup into a stylish and functional alternative to the standard manufacturer's specification.
WHAT IS A WOLFRACE WHEELS ARCH KIT?
It's not hard to see the appeal of off-roaders and pickups, they're beastly motors that project a 'rough and tough' image that's never been cooler, but they're also backed-up by genuine ability.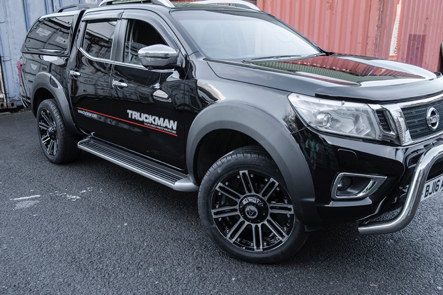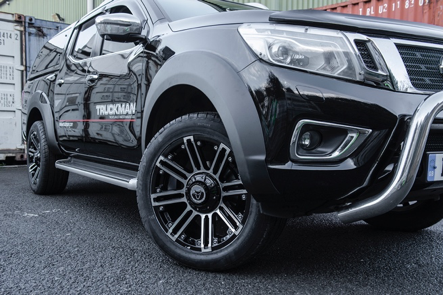 Looking to add a little extra width to your pickup, off-roader or 4×4? Add serious width and aggression to your vehicle with our Wolfrace Wheels wide arch extensions, which are perfect for anyone looking to upgrade to wider wheels and tyres.
We are able to machine different offsets in-house for a wide range of arches and arch extensions used on 4×4 vehicles and pickups. Our Wolfrace Explorer alloy wheels and arch kits are most commonly used on:
Mitsubishi L200
Toyota Hilux
Dacia Duster/Sandero
Fiat Fullback
WHICH ALLOY WHEELS SHOULD I CHOOSE?
This is where our popular Wolfrace Explorer range shines. The entire Wolfrace Explorer alloy wheel range is manufactured to enable complete fitment coverage, this means that we can drill each wheel to custom fitments, and in the majority of cases we can adjust the PCD (stud pattern) offset and centre bone, too.
This means that if your vehicle can accept the wheel size, we can offer a wheel to suit, all you need to do is choose the perfect companion to your brand-new wheel arch kit…
The Wolfrace Explorer range is home to the Wildtrek, an attractively styled design with more than just a hint of the Wolfrace Eurosport Aero, our turbine style offering within the Wolfrace Eurosport range.
It boasts an 'extreme dish' aesthetic, something made all the more apparently thanks to its aggressive offset.
The premium Wolfrace Explorer Amazon is an exceptionally rugged and stylish alloy wheel. Supplied in either Gloss Black with Chrome Rivets (as shown), Gloss Black / Polished or Matt Black / Black Rivets – these wheels will really make your 4×4, pickup or SUV look the business and give you a desirable look.
The Wolfrace Explorer Kalahari uses a split 10-spoke pattern; a very popular design that exposes the brake callipers and discs causing an aggressive look all round. For the minimalist admirers, the Kalahari is available in a simple but effective Matt Black (as shown) or the iconic Wolfrace Wheels Gloss Black / Polished.
Our range continues to expand to accommodate 4×4, SUV and pickup petrolheads, so be sure to view the latest Wolfrace Wheels brochure in your local Wolfrace Wheels dealership, too. Have a question about Wolfrace Wheels wide arch kits or the Explorer range? Contact the team on 0845 330 9896.