At Wolfrace Wheels, we understand that finding the perfect fitment for your vehicle is of upmost importance when it comes to putting the finishing touches on your motor. We also understand that protecting that asset is just as crucial too.
To help our customers get the very best out of their Wolfrace Wheels purchase, we've put together an easy guide on choosing the best fitment and the best warranty for your alloy wheels:
Using our online fitment guide
Achieving the perfect fitment for your vehicle is taking into consideration everything that makes a wheel a wheel, and ensuring that what you visually want to see on your motor lines up with what the vehicle will actually allow.
We understand that that our customers are style-conscious with impeccable taste. As the experts, we can guide you through the process of finding the right fit and look with our online fitment guide.
Listing over 4,500 vehicles, it's super accurate and super-fast! Simply click on the 'Start Here' menu item and your fitment guide pop-up will appear. Then follow the instructions on screen to find out which alloy wheels fit your car!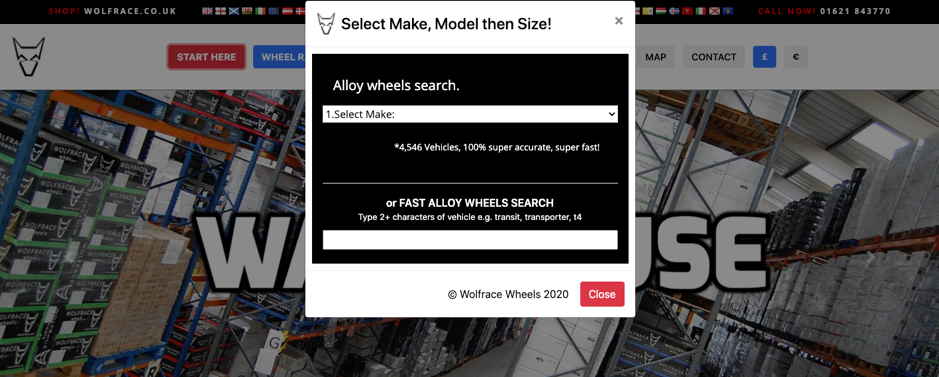 Your Wolfrace Wheels warranty
Always at the forefront of manufacturing and quality control techniques, Wolfrace Wheels is the only UK based alloy wheel brand able to offer a 5-year warranty on selected standard finish alloy wheels!
All Wolfrace Wheels are complete with a 12-month warranty, however, this can be extended when you register your purchase on our warranty registration page.
Our extensive warranty means that we will repair, refurbish or replace any Wolfrace alloy wheel sold by Wolfrace that is found to be faulty or suffer from defective material or workmanship. Giving you peace of mind that your investment is well protected.
All warranty extensions either by post or online must be made within 14 days of purchase. The warranty does not apply if the damage, defect or functional irregularity occurs to the alloy wheels for any other reason than normal road use, for a full list of T&Cs, please click here.
The Wolfrace Eurosport Range
Our popular Wolfrace Eurosport range is manufactured in Europe and carries up to a 5-year comprehensive warranty. This collection is manufactured to the highest quality standards and have either the strict German TUV approval, as well as the KBA (kraftfahrbundesamt) certification or a factory TUV certification based on strict manufacturing and testing.
The state-of-the-art European factories that manufacture Wolfrace alloy wheels adhere to DIN ISO 9001:2000 standards. The entire manufacturing process, commencing from the original smelting of the ingot to the final inspection of the product is performed in house.
Facilities include CAD capabilities for product and tool development, full tool room service for tool and die making, as well as foundry, machine shop, and a sophisticated paint plant.
In addition, there is a fully equipped laboratory and testing section, where stringent ongoing testing procedures from raw materials to finished products are carried out. Every finished unit must pass stringent final inspection before it is passed on to you, the customer.
Wheels from these high-tech plants are supplied to VW, Audi, Mitsubishi, Citroen and various other motor manufacturers.
Navigating our website as a dealership
As dealer of Wolfrace Wheels, you'll have your own private log-in to access valuable resources including trade price information, the Wolfrace fitment guide, available discounts, hi-res wheel images, and social media details.
You'll also find out the latest Wolfrace Wheels brochures and be able to contact our sales team directly for further information.
Find out more about our extended warranty and let us help you find the perfect fitment for your vehicle, contact us today on 01621 843770 – we'd be happy to help you find your next alloy wheels with Wolfrace Wheels.