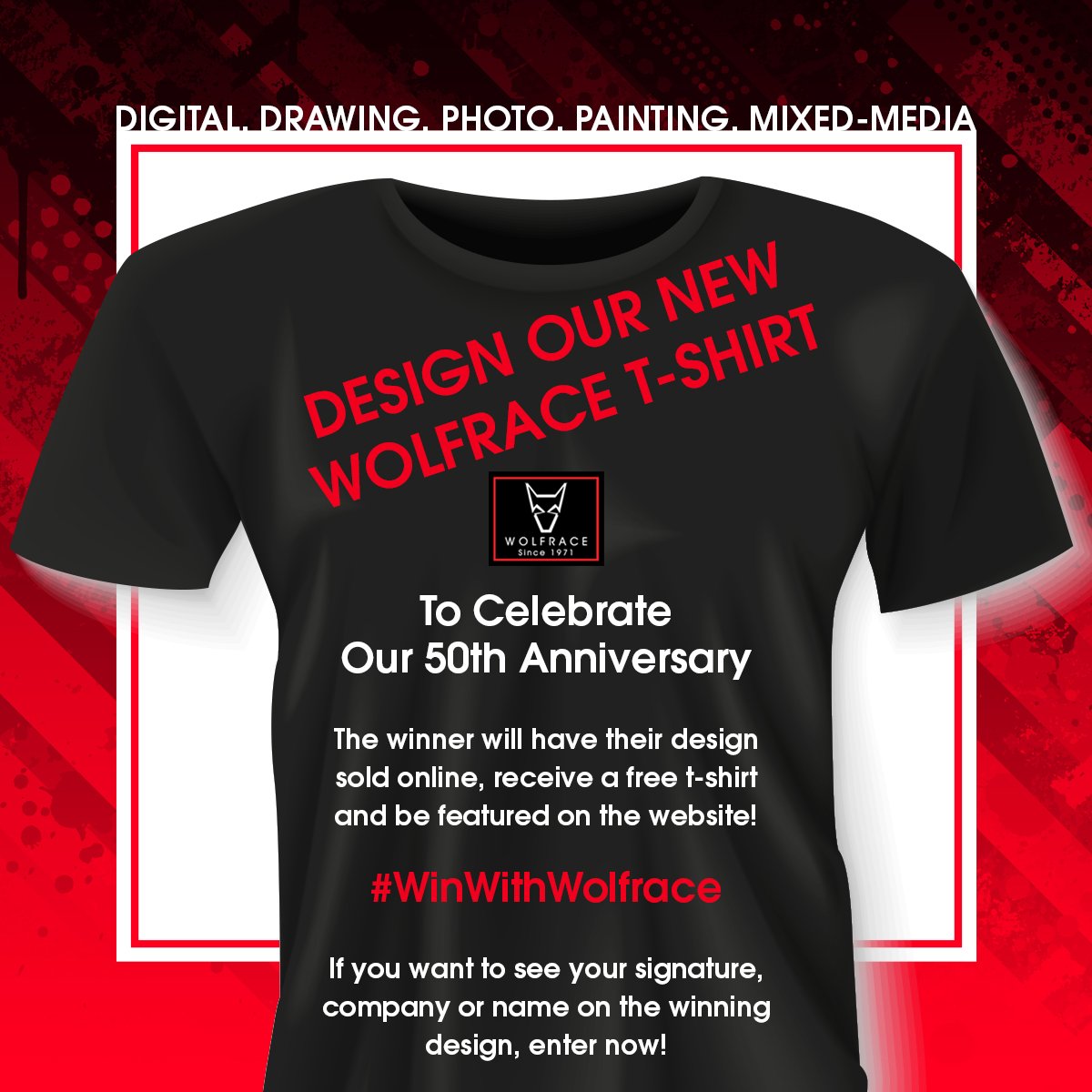 2021 will see Wolfrace Wheels celebrate its 50th anniversary. With a massive history, our wheels have been utilised on vehicles breaking the land speed records, one of our iconic James Bond heroes Roger Moore driving a vehicle laden with a set of Wolfrace alloys, and to today, having the UK's best-selling after-market alloy, the Assassin, it has been a rich history for Wolfrace Wheels 50 years.
To celebrate this achievement with you, we are announcing a great new competition.
We are looking for a winning t-shirt design that will perfectly emulate this achievement for a British automotive brand.
This is how it works…
The Winning Design:
We are going to give you plenty of time to perfect your design with a closing date of 28thFebruary 2021.
To choose the winning entry, the team at Wolfrace Wheels will be casting their votes.
If you are the winner, you will receive a T-shirt with the printed winning design, which also features your signature, company or name.
Your design will be featured on our website competition page and social media.
The winning design carrying your name as the winning artist will also become part of our official Wolfrace merchandise and available for the public to purchase.
To Enter:
It's very simple and the competition is open to everyone*. Send your designs to competitions@wolfrace.com
You can also share your designs with us on our Wolfrace Social Media accounts as well by tagging #WinWithWolfrace.
Please refer to our Competition Rules and Terms of entry.
The design:
The winning design must include the Wolfrace symbol as featured on the download below.
It also has to feature the words '50 years' or '50th Anniversary'.
Your design can be in any format including digital, painted or indeed mixed media. It's your choice!
To help you:
To help you, we have provided a file containing template images of a T-shirt. Feel free to download the file below.
Competition rules & terms of entry
The competition is to design a t-shirt to celebrate Wolfrace Wheels 50th
Your information will not be shared with any other third parties outside of Wolfrace Wheels.
These terms and conditions govern the competition. All other information provided prior to entering the competition including with limitation, the route-to-entry for the competition and the rules of the competition, form part of these terms and conditions.
The competition will run from 1st December 2020 to midnight on the 28th February 2021. Any submitted designs will not be considered after this date.
The competition is only open to persons of 18 or older. However, the design can be produced by a person under the age of 18 but must be submitted by a parent or guardian. Wolfrace Wheels will not promote the name of the winning artist if they are under the age of 18 years without the signed permission of a parent or guardian.
The winning entrant accepts the right for Wolfrace Wheels to use their design for printing and public sale in the future.
Designs must be submitted as a jpg or PDF file. This can be a scan of your artwork.
Only one entry per person and just one winning entry will receive the prize detailed.
Winning entries may be subject to alterations or adjustments by Wolfrace Wheels in order to ensure the practicality of use.
Winning prizes are non-transferrable and there is no cash alternative.
Wolfrace Wheels reserves the right to vary, suspend, postpone or terminate the competition and any prizes, or aspect thereof, for any reasons whatsoever and without notice. If this event occurs, you hereby waive any rights or expectations which you may have against Wolfrace Wheels and acknowledge that you will not have any recourse or claim of any nature against Wolfrace Wheels.
As far as permitted law, Wolfrace Wheels will not be liable for any loss, damage or expense suffered by an entrant or the winners in relation to the competition or prizes. Wolfrace Wheels will also not be responsible or liable for any further expenses or fees incurred by the winner in collecting, using or enjoying the prize won in this competition.
Wolfrace Wheels accept no responsibility for any entry not received for whatever reason.
No purchase is necessary to enter the competition and there is no charge for submitting an entry.
Each entrant agrees to the use of his/her image in any publicity material and each winner agrees to their name being made publicly available.
Any personal data relating to any entrants will be used solely in accordance with current UK data protection legislation.
Competition entries must be submitted to the designated email address, competitions@wolfrace.com. If a design is submitted via any other means it will not be considered for the competition. Any design that is physically sent to us by post or other means will not be considered and returned.
By submitting an entry, an entrant will be deemed to have accepted and be bound by these terms and conditions.
You are providing information to Wolfrace Wheels only. The information provided to us will only be used for the purpose of the competition, all data will be destroyed after it has served the purposed mentioned in these terms and conditions.