Welcome to Wolfrace wheels
Thank you for recently applying to become a dealer of Wolfrace alloy wheels – You can now place your first order.
If your already a dealer please find links to all relevant trade information for 2022.
Please find the following information to help you sell Wolfrace products effectively and includes valuable resources found on our website, trade price information, the Wolfrace fitment guide, available discounts, wheel images and social media details.
ONLINE ORDERING
Click link below and you will then be automatically logged into the TRADE ordering system for a whole year!
Alternatively you can login here, password is available on request.
Note ** If you do not login or use this exact link from within this dealer section you will only see a retail version of this. **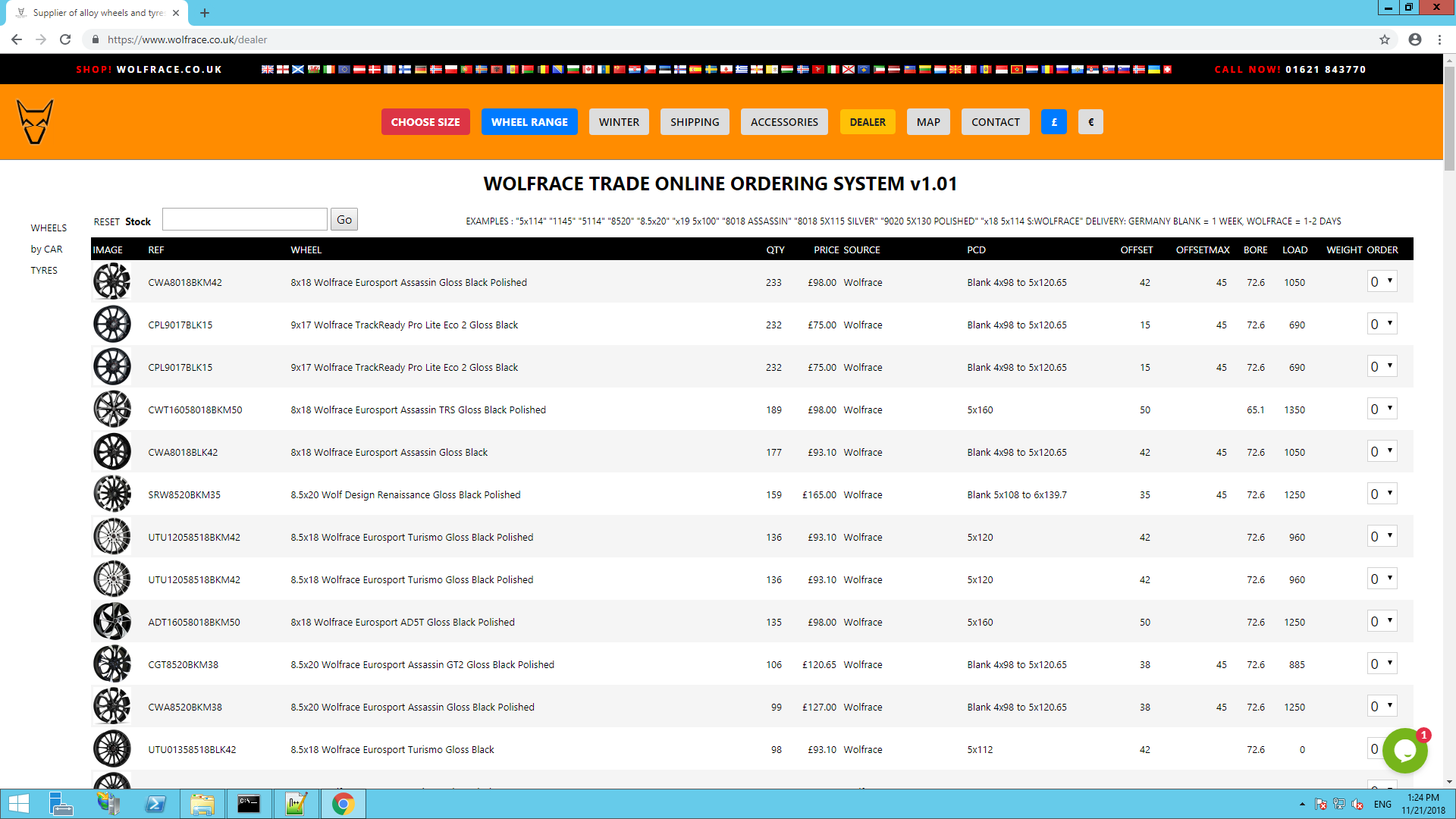 Custom Drilling

We've invested heavily in our engineering department and can now offer a custom drilling service on wheels that arrive in the UK with 'blank' fitment. A blank wheel has not been drilled to any specific PCD. In most cases, we can drill PCD, adjust offset and adjust centre bore.
A professional finish is guaranteed every time.
Wolfrace precision engineering – our high-tech, multiuse CNC drilling machine.
Many new Wolfrace wheels (such as the popular Assassin design) are now ordered as 'blanks'.
Drilling is efficient and accurate to a fraction of a millimetre.
Wheels are expertly drilled to the required PCD in minutes.
Offsets can be changed to specific requirements.
Our expert engineers can guarantee a precise and professional finish on every wheel.
Alloy wheel centre bore and spigot ring location can be created or adjusted to required measurements.
Stud hole de-burring is carried out manually by skilled staff.
Wolfrace Fitment Guide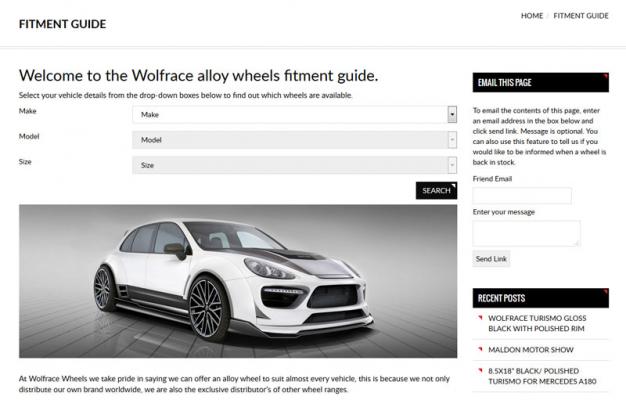 The most important and useful part of the Wolfrace website is our extremely popular Fitment Guide.
All you need to know is the make, model and year of manufacture of your customer's vehicle and size of wheels required and you will be able to quickly inform them which alloys will suit their vehicle. vehicle fitment details and gives a recommended tyre size.
When you've logged in, the guide also tells you how many wheels are in stock.
You can also see the trade price of each wheel, a suggested retail price – and an approximate lead time of fulfilment is highlighted in red.
Fulfilment categories are currently;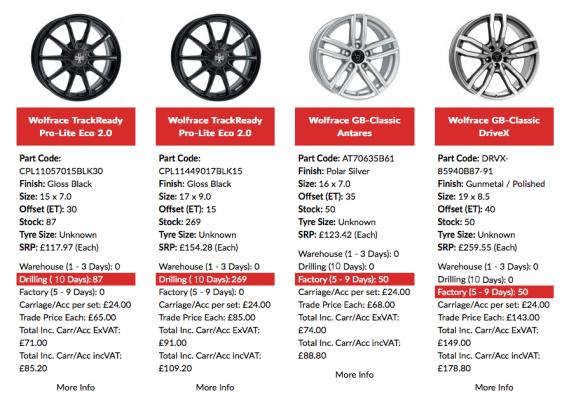 Warehouse (1-3 days) – this is stock in the UK, ready to go.
Drilling (5-10 days) – this is stock in the UK that requires drilling before despatch.
Factory – this is stock in our German warehouse. (up to 7 days)
WARRANTY INFORMATION
All Wolfrace wheels are complete with a 12-month warranty, in some cases, this can be extended when your customer registers their purchase on our warranty registration page.
You can see a list of extensions here.
It is important that you tell your customer to register their purchase if they do not the initial
12-month warranty applies from the date of the original invoice from when you purchased the wheels from Wolfrace.
FACEBOOK
If you have images of vehicles fitted with Wolfrace alloys send them to us or tag us in on Facebook and we'll share the image on our official page.
SERVICE GUARANTEE
Next day delivery on factory drilled UK stock for orders placed before 3pm.
(Except Scotland and Ireland).
Blank wheels drilled and despatched within 10 working days.
Orders from our German warehouse delivered in 7 working days or less.
Quality control sticker across valve hole. One per set.
Damages reported within 48hrs will be collected and replaced like-for-like.
We are the only UK company to offer a five-year warranty on selected products.